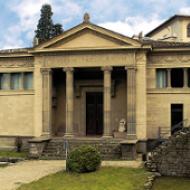 Area e Museo Civico Archeologico di Fiesole
The Archaeological Area is one of the most beautiful archaeological parks in Italy. The Area includes the Roman Theatre, the Thermal Baths and the Lombard Necropolis, which ruins are scattered in three hectares of marvellous Tuscan hilly landscape. The archaeological Area, delimited to the north by Etrurian walls, preserves the traces of the history of Fiesole: the Romans, after conquering the city in the 1st century B.C., built a new temple on the Etruscan, 4th century temple and enriched the area with the Theatre and the Thermal baths. Near the sacred area of the temple, a Lombard Necropolis testimonies the subsequent use of the area. The Civic Archaeological Museum, strictly linked to the Archaeological Area, preserves numerous findings from protohistoric times to the Medieval age, mainly coming from Fiesole. Visitors can follow an itinerary articulated at various level: - on the ground floor, the first halls are dedicated to findings coming from the territory of Fiesole, to the display of materials found from the excavations of the Theatre, Thermal Baths and votive shrine dedicated to the Temple of Minerva, in addition to the particular lioness bust in bronze;- the balconies host the antique section with the beautiful Costantini Collection, the buccheri, the numismatic section and sculptures, coming mainly from Rome; - the underpass and the new wing of the Museum are dedicated to the Lombard section, where some tombs found in the archaeological Area and in the city were rebuilt, and many findings coming from funeral objects can be admired.
Information
The Museum is closed on Monday, Tuesday, Wednesday
Museum timetables
Access notes
Direct access from the ticket office and entry into the first available visit slot.
Mandatory face mask.
Temperature check.
Last admission half hour before closing.