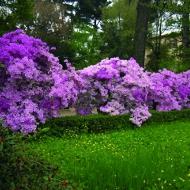 Museo di Storia Naturale, Orto Botanico
Botanical Garden "Giardino dei Semplici", created by the Medici as garden of medicinal plants (the Semplici) in 1545, is among the most ancient Gardens in the world. It saw a period of great splendour between the 16th and 17th century, and was enriched with many rare plants collected from all over the world, hence today we are able to enjoy precious collections. It covers an area of over two hectares, both indoor and outdoor. In the hot and cold greenhouses built in the 19th century, there are tropical and sub-tropical plants among which the Cicadee, Ficus, Palms collections are particularly important, as well as an ancient collection of Citruses, succulent and aquatic plants, in addition to a rich collection of traditional, ethnobotanical uses. The outdoor area features food plants, a reconstruction of an Italian garden, the gardens of medicinal and poisonous plants, the Zen garden, two acclimatisation gardens for exotic plants. Three displays contain a small educational collection of carnivorous plants. During the spring, in front of the imposing cork trees, a seasonal exhibition is set-up with the suggestive collection of Ferns. The 94 monumental trees are of great suggestion, among which the Badger planted in 1720 – the most ancient plant of the Garden – and the Cork trees of 1805. The theme itineraries are very interesting: the evolution of various species of vascular plants with numerous "living fossils", the itinerary along the ancient and modern roses and the sensorial, tactile and olfactory path for visually disabled.
Museum timetables
Access notes
Direct access from the ticket office and entry into the first available visit slot.  
Mandatory face mask.
Temperature check.
Last admission half hour before closing.