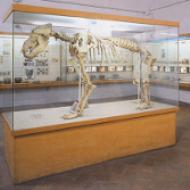 Museo e Istituto Fiorentino di Preistoria Paolo Graziosi
Fast track Booking obligatory
The Museo e Istituto Fiorentino di Preistoria, located on the first floor of the historic former convent of the Oblate nuns, preserves important collections of paleo-ethnologic and paleontological materials concerning the most ancient men's history. Numerous documents (original version and copies) range from the first Age of Stone (Palaeolithic) until the Age of Metals and come from excavations and researches that took place in various Italian, European, Asian and African areas. The Museum is not a simple collection and storage place of documents, but also a research institute with specific scientific laboratories (Archaeometry, Anthropology, Zooarchaeology, History of Computer Science, Forensic archaeology, Photography and design). It is active thanks to the constant addition of collections, their study, publication and educational activities based on age bands.
Museum timetables
Access notes
Open by reservation only. Reservations required at least 48 hours in advance by writing to info@museofiorentinopreistoria.it.
Mandatory face mask.
Temperature check.