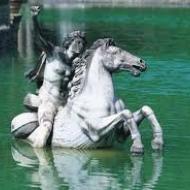 Palazzo Pitti-Museo Giardino di Boboli
Fast track Booking obligatory
The wonderful Boboli Garden lies behind the wonderful Pitti Palace. The Medici first created it, inventing the model of the Italian garden, which was copied by many European Courts. The Garden was designed by Niccolò Pericoli, called Tribolo, artist who had already proven his skills by realising the gardens of the Medici´s Castello and Petraia villas, however the work was executed by others. From the first design, rather simple, the architecture became more complex in the 17th century and today's style is the result of other changes that took place in the 18th and 19th century.
The vast green area is indeed an outdoor museum, filled with ancient and Renaissance statues, adorned with caves, above all the famous cave by Bernardo Buontalenti, and large fountains like those of Nettuno and Oceano. The terraced area is particularly suggestive, where the 18th century Kaffeehaus pavilion is located, rare example of rococo architecture in Tuscany, or the Limonaia, built by Zanobi del Rosso between 1777 and 1778. Its fascinating trails allow capturing the spirit of court life and enjoying a charming garden.
Museum timetables
Access notes
Mandatory face mask.
Temperature check.
The last admission is one hour before closing.