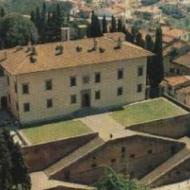 Villa Medicea di Cerreto Guidi e Museo storico della caccia e del territorio
Fast track Booking obligatory
Declared UNESCO World Heritage in 2013, the villa, located near the Fucecchio Marsh was built between 1564 and 1567 on the initiative of Cosimo I de' Medici as a hunting lodge and territorial garrison. The works were entrusted to Davide Fortini and, afterwards, to Alfonso Parigi il Vecchio. What renders the villa unique and distinctive, is the presence of four majestic symmetric staircases named "ponti medicei", a scenographic basement traditionally attributed to Bernardo Buontalenti, which supports the ground and raises the perspective plane. The villa owes its fame also the tragic incident of Isabella de' Medici, the beautiful daughter of Cosimo I and Eleonora da Toledo, according to legend strangled by assassins sent by her jealous husband, Duke Paolo Giordano Orsini, but in reality deceased due to a stroke. Portraits of the Medici family, fine selection of works from the inheritance of antiquarian Stefano Bardini, are exposed inside. The first floor hosts since 2002, the Historical Museum of hunting and of the territory, which houses a collection of weapons, mainly for hunting and shooting, of the 17th-19th centuries.
Museum timetables
Access notes
Free reservation required calling to +39 0571 55671 or by email at info@prolococerretoguidi.it. Maximum 6 people per group. 
Mandatory face mask.
Temperature check.