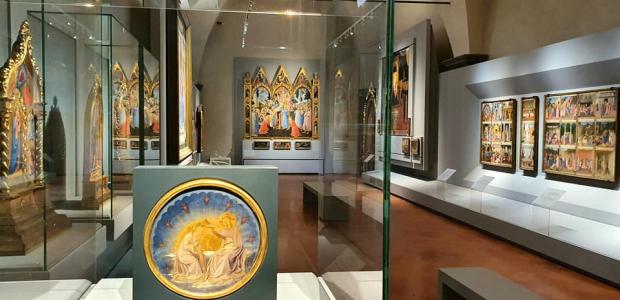 A radical renovation with a new lighting for the most famous room of the San Marco Museum, the one dedicated to Beato Angelico, which vaunts the most important collection of Fra Angelico panel paintings in the world. The renovation further enhances the refinement and delicacy of the works of the Dominican painter and friar who lived and worked in the convent of San Marco. An incomparable monographic exhibition, with 16 extraordinary masterpieces that have now been displayed chronologically and with consideration given to their size in relation to the vastness of the hall. Works include the Deposition from the Cross, the Annalena Altarpiece, the imposing San Marco Altarpiece and the Tabernacle of the Linaioli, in addition to smaller paintings such as the panels for the Armadio degli Argenti, highly sophisticated predellas and reliquaries. 
The renovation ideally concludes the celebrations for the museum's 150th anniversary.
A charming visual poetry capable of fascinating every visitor.
Photo credits: Museo di San Marco