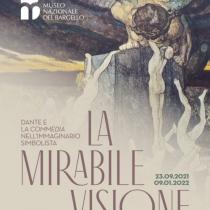 The admirable vision. Dante and the Comedy in the symbolist imagination
Accesso diretto dalla biglietteria e inserimento nel primo slot di visita disponibile.
L'ultimo ingresso è un'ora prima della chiusura. 
Ingresso gratuito ogni 1° domenica del mese; accesso prioritario sospeso.
 
Dedicated to the perception of the figure of Dante and the Divine Comedy in the literary context between the nineteenth and twentieth centuries, the exhibition presents a selection of works that narrate the extraordinary catalog of images - sublime, mystical and dreamlike - that Dante's poem offered to the world of art, from naturalist currents to the European influences of Symbolism. The exhibition, divided into sections, aims to be a thematic and interdisciplinary narration, which connects paintings, sculptures and conceptual and literary references implicit in Dante's biographical and poetic story.