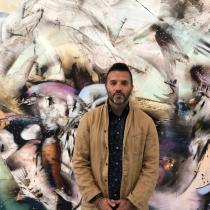 ALI BANISADR. BEAUTIFUL LIES
Accesso diretto dalla biglietteria e inserimento nel primo slot di visita disponibile. 
L'ultimo ingresso è un'ora prima della chiusura. 
 
The exhibition, the artist's first in an Italian public museum and the first in Florence, confronts his work with the art and history of Florence: in Palazzo Vecchio Banisadr was invited to create three site-specific paintings, inspired by the reading of Dante's Divine Comedy, a special event imagined by the director of the Museo Novecento Sergio Risaliti on the occasion of the celebrations for the 700th anniversary of the death of the Supreme Poet. In his aesthetic experience, abstract and figurative, modernist language and medieval imagery coexist. The agitated whirlwind of his canvases stages an entire world, which draws on the past and the present, and preserves both of them, offering us a timeless vision that is never limited to a closed cultural context, simultaneously drawing inspiration from the art of yesterday and today. . This way of working is one of the main reasons why Banisadr was so fascinated by Dante.