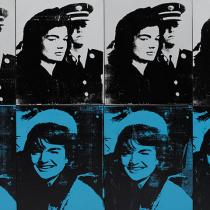 American art 1961-2001. The collections of the Walker Art Center. From Andy Warhol to Kara Walker
L'ultimo ingresso è un'ora prima della chiusura.
The exhibition aims to tell American modern art between two decisive historical moments, the beginning of the Vietnam War and the attack of 11 September 2001, through an extraordinary selection of works by famous artists such as Andy Warhol, Mark Rothko, Louise Nevelson, Roy Lichtenstein, Claes Oldenburg, Bruce Nauman, Barbara Kruger, Robert Mapplethorpe, Cindy Sherman, Matthew Barney and Kara Walker. On display more than 80 works by 55 American artists including painting, photography, video, sculpture and installations on loan from the Walker Art Center in Minneapolis, one of the most important contemporary art museums in the world. The exhibition tells the rich and multifaceted American artistic production, highlighting how the different generations of American artists have also used the power of art as a tool to address important and delicate issues such as consumerism and mass production, feminism and gender identity, racial issues and the struggle for civil rights.