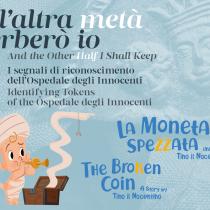 And the Other Half I Shall Keep
Accesso diretto dalla biglietteria e inserimento nel primo slot di visita disponibile.
L'ultimo ingresso è mezz'ora prima della chiusura. 
Con Firenzecard è compreso l'ingresso al museo, ma non sono comprese le mostre temporanee organizzate da soggetti esterni.
The exhibition is dedicated to the signs of recognition of the old hospital and presents a selection of the 40,000 objects that accompanied the children when they entered the Institute. One of the richest assets of its kind in the world: coins and medals, but also votive accessories, such as rosaries, medals and crosses, or generic accessories such as jewels, buttons and ribbons, left to the girls and boys at the time of their assignment to the Institute, to which they were handed over with the intention of ensuring their survival. The exhibition is dedicated to them, and above all to the stories they tell.