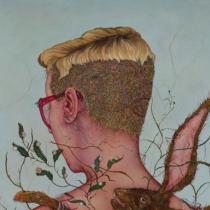 Anj Smith. A Willow Grows Aslant the Brook
Accesso diretto dalla biglietteria e inserimento nel primo slot di visita disponibile. 
Ultimo ingresso 45 minuti prima della chiusura. 
The exhibition is the first solo exhibit in an Italian museum by the British painter Anj Smith and hosts a selection of 12 works in which the artist's interior landscapes, populated by faces, animals and surreal elements, interact with the extraordinary collection of ancient art of the Stefano Bardini Museum.