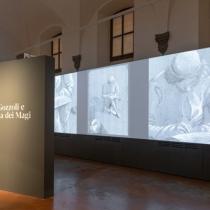 Benozzo Gozzoli and the Chapel of the Magi
Accesso diretto dalla biglietteria e inserimento nel primo slot di visita disponibile.
L'ultimo ingresso è un'ora prima della chiusura.
The exhibition is closely linked to the history of the Medici Palace, which houses the extraordinary Chapel of the Magi, one of the masterpieces of Benozzo Gozzoli and of the Florentine Renaissance, frescoed on commission by the Medici family at the end of the fifties of the fifteenth century. The exhibition takes the visitor to discover the life and works of the artist and his links with the Medici and the city of Florence.