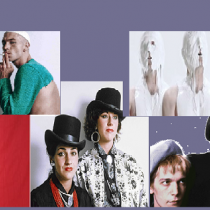 Dino Ignani. Dark Portraits – Florence/Rome 1982-1985
Accesso diretto dalla biglietteria e inserimento nel primo slot di visita disponibile. 
L'ultimo ingresso è mezz'ora prima della chiusura.
Cappella Rucellai: L'ingresso è consentito ad un massimo di 8 persone ogni 30 minuti.
The exhibition tells us in more than 400 photographs an era and a generation of music, style, rebellion, fashion and radical identity; Italy in the eighties and its young people, with their tension, vitality, confusion.
Two series of images collected for the first time: those in black and white, made in Rome starting from 1982, and those in color taken in Florence three years later and never exhibited before.