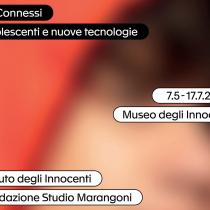 Disconnected. Adolescents and new technologies.
Accesso diretto dalla biglietteria e inserimento nel primo slot di visita disponibile.
L'ultimo ingresso è mezz'ora prima della chiusura. 
Con Firenzecard è compreso l'ingresso al museo, ma non sono comprese le mostre temporanee organizzate da soggetti esterni.
The exhibition, set up in the Borghini Hall of the museum, is born from the collaboration between the Istituto degli Innocenti and the Studio Marangoni Foundation in Florence, presenting to the public the images of five young professional photographers alongside the works created by Raimond Wouda. The exhibition, through multiple looks and artistic interpretations, aims to stimulate reflection on a very topical issue: the relationship between young people and new technologies, and in particular social networks.