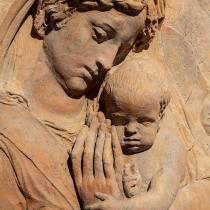 Donatello, the Renaissance
L'ultimo ingresso è un'ora prima della chiusura.
The exhibition is a unique exhibition dedicated to one of the most important and influential masters of Italian art of all time, in dialogue with the masterpieces by other artists of the time such as Brunelleschi, Masaccio, Mantegna, Giovanni Bellini, Michelangelo and Raphael. Donatello was one of the greatest exponents of the Italian fifteenth century, a symbol of the Florentine Renaissance and one of the favorite artists of the Medici family. The exhibition is a unique and extraordinary journey through the life and works of this "master of masters".