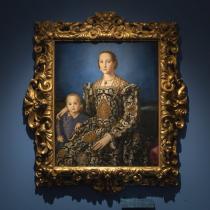 Eleonora di Toledo and the Invention of the Medici Court in Florence
L'ultimo ingresso è un'ora prima della chiusura.
Ingresso gratuito ogni 1° domenica del mese; accesso prioritario sospeso.
Accesso diretto dalla biglietteria e inserimento nel primo slot di visita disponibile. Per poter accedere a tutti i musei di Palazzo Pitti i possessori Firenzecard devono prima recarsi alla biglietteria in piazza Pitti 1.
The exhibition is dedicated to Eleonora di Toledo, daughter of the Viceroy of Naples don Pedro de Toledo and a woman endowed with exceptional managerial skills, who played a fundamental role in the construction of the Medici court, introducing Spanish court etiquette in Florence, revolutionizing the fashions of the elite and contributing to the transformation of the Tuscan landscape. Over 100 works on display, with major international loans, paintings, drawings, tapestries, costumes, jewels and gems that will recount the life, personality and extensive cultural impact of the Duchess of Florence. The largest exhibition ever dedicated to the "Grande dame of the Sixteenth Century".