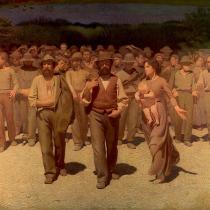 The Fourth Estate in Florence
Accesso diretto dalla biglietteria e inserimento nel primo slot di visita disponibile. 
L'ultimo ingresso è un'ora prima della chiusura. 
 
The Salone dei Cinquecento, in the Museum of Palazzo Vecchio, houses the large canvas by Giuseppe Pellizza da Volpedo, one of the most famous pictorial works created between the 19th and 20th centuries, exceptionally on loan from the Museo del Novecento in Milan.