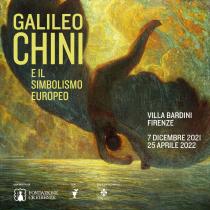 Galileo Chini and European Symbolism
Accesso diretto dalla biglietteria e inserimento nel primo slot di visita disponibile.
L'ultimo ingresso è un'ora prima dell'orario di chiusura. 
Villa: dal 7 novembre 2023 all'11 febbraio 2024 da martedì a domenica con orario 10:00-19:30. Chiusa tutti i lunedì; 25 dicembre.
Giardino: aperto tutti i giorni 10:00-16:00. Chiuso primo e ultimo lunedì del mese; 25 dicembre.
Focused on Galileo Chini's early years, the exhibition presents 200 pieces including paintings, drawings, illustrations and ceramics by the Florentine painter, illustrator and ceramist, who was the greatest Italian exponent and one of the greatest European interpreters of Liberty modernism and symbolism.