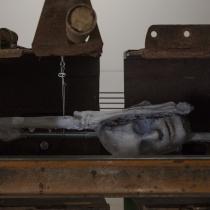 Accesso diretto dalla biglietteria e inserimento nel primo slot di visita disponibile. 
Ultimo ingresso un'ora prima della chiusura. 
The exhibition stems from the dialogue that the young artist has triggered with the bronze sculpture Leone di Monterosso - Chimera by Arturo Martini. So the exhibition is a modern reworking of a fantastic image belonging to classical mythology, born from the mind of the Greeks and then adopted by the Etruscans and Romans, who handed down the myth of the Chimera, a terrifying being, with a lion's face, the body of a goat and the tail of a snake, killed by the hero Bellerophon.