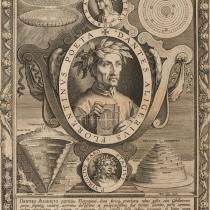 From Hell to Empireo. Dante's world between science and poetry
L'ultimo ingresso è un'ora prima della chiusura.
Ingresso gratuito ogni 1° domenica del mese; accesso prioritario sospeso.
Accesso diretto dalla biglietteria e inserimento nel primo slot di visita disponibile. Per poter accedere a tutti i musei di Palazzo Pitti i possessori Firenzecard devono prima recarsi alla biglietteria in piazza Pitti 1.
Science and poetry come together in Dante Alighieri's Divine Comedy. On display manuscripts, drawings, engravings, maps of an imagined afterlife, scientific instruments and video reproductions represent the Earth and the cosmological structure of the Universe as they were known by the Supreme Poet. An exhibition dedicated for the first time to Dante "scientist".