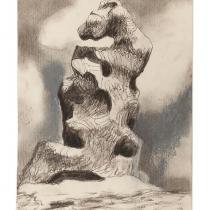 Henry Moore. The Sculptor's drawing
Accesso diretto dalla biglietteria e inserimento nel primo slot di visita disponibile. 
Ultimo ingresso un'ora prima della chiusura. 
The English master of sculpture Henry Moore returns to Florence, almost fifty years after the memorable exhibition held at the Forte di Belvedere in 1972. To host "Henry Moore. The sculptor's drawing" is the Museo Novecento, which proposes the value of drawing in its practice and its relationship with sculpture as the main theme of the exhibition. The exhibition itinerary includes about seventy drawings by the artist, presented alongside graphic and sculptural works, and a video section, which deepen a plurality of thematic horizons, starting from that "unlimited repertoire of shapes and rhythms" that nature spontaneously places in front of our eyes. And so
natural forms, animals, but also the skulls and then the relationship between the creator and the material become the focus of the exhibition.