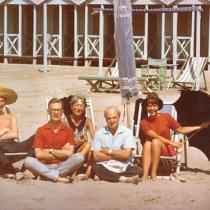 Accesso diretto dalla biglietteria e inserimento nel primo slot di visita disponibile. 
Ultimo ingresso un'ora prima della chiusura. 
The exhibition reconstructs the bond between the sculptor and the Tuscan territory, presenting a series of works from private collections that testify, together with documents and photographs, to the intense artistic and emotional relationship that bound Moore to the city of Florence and Tuscany. A relationship that began in the 1920s when, as a young student, the sculptor stayed in the main Tuscan cities and then consecrated in 1972 with the great exhibition that the city of Florence dedicated to him at the Forte Belvedere. The study trip to Italy in 1925 was a sort of revelation for Moore and the live observation of the masterpieces by the Tuscan masters of the fourteenth and fifteenth centuries deeply marked his artistic training.