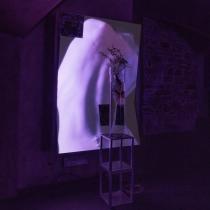 Accesso diretto dalla biglietteria e inserimento nel primo slot di visita disponibile. 
L'ultimo ingresso è mezz'ora prima della chiusura.
Cappella Rucellai: L'ingresso è consentito ad un massimo di 8 persone ogni 30 minuti.
For the first time in Italy, at the Marino Marini Museum, the SEMINARIUM exhibition by the acclaimed Danish artist Jesper Just, one of the leading names on the international art scene thanks to his ambitious cinematographic works and large sculptural installations that involve the viewer, transforming him into a participant. Housed in the thirteenth-century crypt of the Museum illuminated by violet glows, the exhibition makes the viewer an integral part of this complex pulsating organism in which machines, bodies and plants support each other in an imaginative solution that goes beyond the anthropocentric vision of the world.