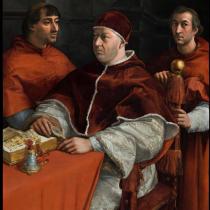 Leo X returns to Florence
Accesso diretto dalla biglietteria e inserimento nel primo slot di visita disponibile. Per poter accedere a tutti i musei di Palazzo Pitti i possessori Firenzecard devono prima recarsi alla biglietteria in piazza Pitti 1.
L'ultimo ingresso è un'ora prima della chiusura.
Ingresso gratuito ogni 1° domenica del mese; accesso prioritario sospeso.
An exhibition entirely dedicated to the Portrait of Leo X between Cardinals Giulio de 'Medici and Luigi de' Rossi, Raphael's masterpiece, returned to the Uffizi Galleries after more than two years of restoration at the Opificio delle Pietre dure and the transfer to Rome for the great exhibition at the Scuderie del Quirinale which celebrated the 500th anniversary of the artist's death. The exhibition documents the complex restoration and the numerous scientific analyzes carried out on the work, which made it possible to establish that the work is entirely due to the hand of Raphael. At the end of the exhibition, the work will be placed in the Sala di Saturno of the Palatine Gallery, together with a series of masterpieces from Urbinate, including the portraits of two other important prelates: that of Pope Julius II and that of Cardinal Bibbiena.