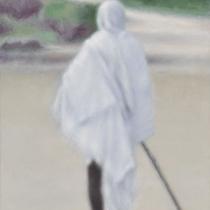 Accesso diretto dalla biglietteria e inserimento nel primo slot di visita disponibile. 
Ultimo ingresso un'ora prima della chiusura. 
The exhibition presents for the first time in Florence in some of the symbolic places of the city (Museo Novecento, Palazzo Vecchio Museum, Museo degli Innocenti and, exceptionally, the Abbey of San Miniato al Monte) a selection of works by the Iranian-American artist Y.Z. Kami, whose pictorial work is characterized by the creation of portraits of women and men captured in the foreground that have nothing to do with our daily lives, but which refer to elsewhere, to a place that is a memory or evocation of the afterlife . Kami is a painter of invisibility; his gaze and his painting are able to tell humanity beyond contingency, capturing the spirituality that envelops the bodies.