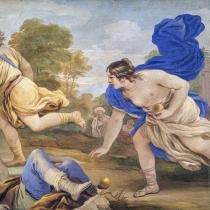 Luca Giordano. Baroque master in Florence
Accesso diretto dalla biglietteria e inserimento nel primo slot di visita disponibile.
L'ultimo ingresso è un'ora prima della chiusura.
The exhibition, dedicated to Luca Giordano, one of the greatest artists of the seventeenth century, tells us about the relationship between the Neapolitan painter, who spent the years between 1682 and 1686 in Florence, and the great Florentine families, who welcomed the novelties of his painting and commissioned him with important works intended to mark the history of the Baroque in the city. On display is a selection of around 50 works, some of which have never been seen in Florence before, deeply connected to the frescoes in Palazzo Medici Riccardi where the painter left splendid evidence of his art: painted vaults for the Galleria degli Specchi and for the Ricardian Library. Among these stand out a series of ten sketches of the Galleria degli Specchi and of the vault of the Biblioteca Riccardiana, owned by the National Gallery of London, which for the occasion will be placed in direct dialogue with the vault.