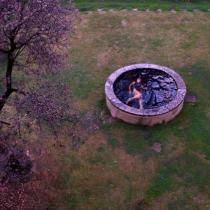 Massimo Bartolini. Hagoromo
Accesso diretto dalla biglietteria e inserimento nel primo slot di visita disponibile.
The exhibition presents the largest installation ever created by Massimo Bartolini and specially conceived for the spaces of the museum, a sort of new backbone that guides the viewer to discover works belonging to different moments in his career. The exhibition is thus configured as an itinerary made up of surprising and revealing encounters.