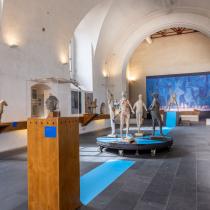 Pas de deux. Marino Marini Igor Stravinskij
Accesso diretto dalla biglietteria e inserimento nel primo slot di visita disponibile. 
L'ultimo ingresso è mezz'ora prima della chiusura.
Cappella Rucellai: L'ingresso è consentito ad un massimo di 8 persone ogni 30 minuti.
The exhibition traces the friendship and bond between two of the most influential artistic personalities of the twentieth century: Marino Marini and Igor Stravinskij. On display 50 works, many of which have never been exhibited before, which tell the story of a partnership that began in 1948 in New York and "immortalized" in some of Marino Marini's most fascinating works.