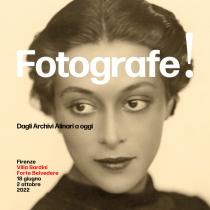 Photographers! From the Alinari Archives to today
Accesso diretto dalla biglietteria e inserimento nel primo slot di visita disponibile.
L'ultimo ingresso è un'ora prima dell'orario di chiusura. 
Villa: dal 7 novembre 2023 all'11 febbraio 2024 da martedì a domenica con orario 10:00-19:30. Chiusa tutti i lunedì; 25 dicembre.
Giardino: aperto tutti i giorni 10:00-16:00. Chiuso primo e ultimo lunedì del mese; 25 dicembre.
The exhibition focuses on the women of yesterday and today, with an exhibition itinerary that combines original works from the Alinari Archives with contemporary productions, intertwining and re-proposing a history of female photography that from its origins spans the twentieth century and reaches our days, alongside the first photographic procedures to contemporary experiments. The exhibition is built by analogies, differences, suggestions, themes and genres, first of all the photographic portrait, bringing together in a single path photographs and photographers born in different eras, places and social contexts.