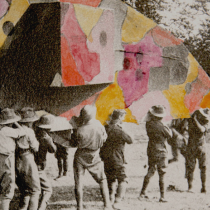 Rä di Martino. Play it again
Accesso diretto in biglietteria senza prenotazione.
L'ultimo ingresso è un'ora prima della chiusura. 
The exhibition shows us the work by one of the most appreciated artists on a national and international level. Her works are inhabited by pop culture characters who seem to re-emerge from a corner of our memory that we thought buried. They re-emerge, almost randomly, in the form of caricatures of their former selves poised between the grotesque and the pitiful. These characters, almost "heroes" of our childhood, are catapulted into timeless or unhistorical settings or even into totally different contexts, the result of ironic cinematic quotations.