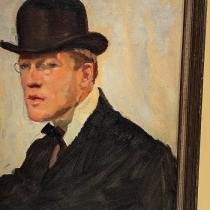 "Rudolf Levy (1875 -1944). Work and exile"
L'ultimo ingresso è un'ora prima della chiusura.
Ingresso gratuito ogni 1° domenica del mese; accesso prioritario sospeso.
Accesso diretto dalla biglietteria e inserimento nel primo slot di visita disponibile. Per poter accedere a tutti i musei di Palazzo Pitti i possessori Firenzecard devono prima recarsi alla biglietteria in piazza Pitti 1.
A tribute to the German expressionist painter, a pupil of Matisse, Rudolf Levy (Stettin 1875 - Auschwitz 1944), almost eighty years after his death. The exhibition is a major retrospective, covering all of his activity; the 47 works on display tell us the tormented existence of Levy through his paintings,  from his early years to those of exile, including the last ones spent in Florence and considered the most prolific from an artistic point of view.