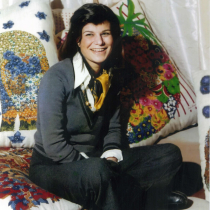 Accesso diretto dalla biglietteria e inserimento nel primo slot di visita disponibile.
Per prenotare chiamare il numero 055 3562846, inviare un'email a receptionmuseoferragamo@ferragamo.com o recarsi direttamente presso la biglietteria del museo.
The exhibition is a tribute to Fulvia Ferragamo, to whom we owe the intuition of bringing a division linked to silk into the maison, and wants to tell the perfect union of creative intuitions and high industrial craftsmanship, which is behind the production of a foulard . Until 1960 the name Ferragamo had been synonymous with women's footwear. But the goal of its founder Salvatore was to create a fashion house that would dress women from foot to head. Was his daughter Fulvia, who started in the early seventies a continuous production of silk accessories, for women and men, characterized by exclusive designs. The process of developing a printed scarf or tie is based on teamwork and continues to be a laborious and demanding process even today. It was Fulvia, from the very beginning of her professional career, who suggested sketches made with the collage technique. Ethnic and cultured themes reduced to miniatures, but also popular illustrations are the recurring subjects of the tie, while in the scarves flowers and the animal world dominate. From the second half of the eighties floral patterns proliferated and alongside them marine fauna, hunting subjects, footwear created by Salvatore Ferragamo in the early decades of the twentieth century and, above all, exotic themes, where felines dominate.