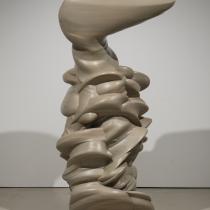 Accesso diretto dalla biglietteria e inserimento nel primo slot di visita disponibile. 
Ultimo ingresso un'ora prima della chiusura. 
The exhibition  is a tribute to Cragg's sculpture and it is aimed at recounting the artist's creative process and working method. In fact, the exhibition rooms host a selection of small and medium-sized works as well as drawings and watercolours, to give an idea of his prolific and multifaceted practice. In this sense, the rooms on the second floor host a number of drawings conceived as basic preparatory tools for making the sculpture, while those on the ground floor, through the staging, the artist's studio, replicate a place of creation but also life.