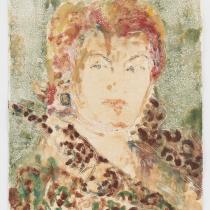 Women in balance - 1955-'65
Accesso diretto dalla biglietteria e inserimento nel primo slot di visita disponibile.
Per prenotare chiamare il numero 055 3562846, inviare un'email a receptionmuseoferragamo@ferragamo.com o recarsi direttamente presso la biglietteria del museo.
The exhibition pays tribute to Wanda Miletti Ferragamo and to all enterprising, powerful and spirited female figures who, since the second postwar period, have contributed to the social and cultural transformation of the figure of women in the workplace after the Second World War. Through objects, clothes, works of art, films, photographs, the exhibition outlines the activities and choices of women of different ages, even in work areas until then reserved almost exclusively to men: women of the professions, of art, culture, politics and work that through their personal experiences illuminate the longest revolution of the contemporary age, the one that marked the end of the separation of sexual roles.