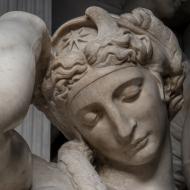 Without reservation required
The Medici Chapels are a state museum since 1869, however their story is strictly related to that of the Church of St. Lawrence, to which they belong. The museum consists of the New Sacristy, which sculptures were designed and conceived by Michelangelo; the Cappella dei Principi, monumental mausoleum in hard stones; the Crypt, where the Medici Grand Dukes and their families are buried; Crypt Lorena, the Lorenese Crypt which houses, in addition to the remains of the members of the Lorena family, the funeral monument dedicated to Cosimo the Old, "Pater Patriae". The museum can be accessed from the Crypt with lower vaults, supported by large pillars in pietra serena sandstone. The bodies of the Medici Grand Dukes and their families were buried in this room, starting from Cosimo I up to Gian Gastone, last Grand Duke of the dynasty that died out with Anna Maria Luisa, Palatine Electress. The New Sacristy is the master work of Michelangelo, built symmetrically to the Old Sacristy from 1519. Moreover, the museum preserves part of the Treasury of the Basilica: sacred vestments and magnificent reliquaries.
piazza Madonna degli Aldobrandini 6
50123
Firenze
,
FI
Museum timetables
Access notes
Direct access from the ticket office and entry into the first available visit slot. 
The last admission is one hour before closing.
Free admission every 1st Sunday of the month; priority access suspended.