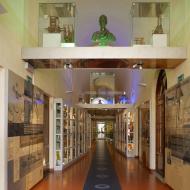 Fondazione Scienza e Tecnica
Without reservation required
The museum itinerary begins from the Physics Laboratory and ends with the observation of the marvellous displays of the Gallery of the Laboratory of Natural Sciences. The instruments of the Physics Laboratory introduce the visitor to the knowledge of 19th century Physics and reproduce the classification of the subjects of that period: hydraulics, optics, acoustics, mechanical physics, hydrostatics, pneumatics, meteorology, electrostatics, electricity and magnetism, electricity applications. Lastly, the Gallery of the Laboratory of Natural Sciences engages the visitors thanks to the quality, uniqueness and beauty of the displayed findings: rocks and minerals, fossils, herbariums, taxidermied animals, liquid formulas, anatomic, botanic and zoological models in wax and productions linked to the most important branches of the 19th century industry and manufacture.
Museum timetables
Access notes
Last admission forty minutes before closing.
Physics Cabinet direct access from the ticket office, without reservation. The Planetarium can be visited by appointment by calling +39 055 2343723 or by writing to iscrizioni@fstfirenze.it.