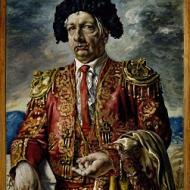 Museo Casa Rodolfo Siviero
Without reservation required
Tuscany Region inherited the house in 1983 according to Rodolfo Siviero's last wishes in his will. The museum preserves the personal collection of the so-called "James Bond of the Art"; thanks to his efforts, hundreds of masterpieces taken from Italy during the Second World War was retrieved. Ancient furniture, household and liturgical objects, archaeological finds, Medieval, Renaissance and Modern statues and paintings can be found inside the 19th century villa, which testify the great love for art that supported Siviero in his recovering work. The decorations are typical of a collector's dwelling, inspired by other private residences donated to the city of Florence by important figures like Horne, Bardini, Stibbert. The works by Giorgio de Chirico are of special interest, who was not only Siviero's friend but lived and worked at the villa in the 1920s, when it was the house of his patron, Giorgio Castelfranco.
055 2345219 / 055 4382652 (lun-ven / Mon-Fri)
Museum timetables
Access notes
Direct access and entry into the first available visit slot.