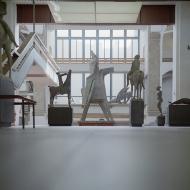 Without reservation required
The Marino Marini Museum is located in the historic centre of Florence inside the former Church of San Pancrazio, realised by Leon Battista Alberti. With the opening of this space which pleasantly merges ancient and modern architecture and dates back to 1988, thanks to a laborious restoration work designed by architects Bruno Sacchi and Lorenzo Papi, the city was able to inaugurate its first museum of modern and contemporary art. Inside the museum, "paths" were conceived and created aimed at viewing the works of Marino Marini (1901-1980), with particular focus to the exalted three-dimensionality of the artist from Pistoia, famous all over the world for his "horses and knights". Ample and luminous spaces, multiple points of view permit a complete reading of the work of the artist, highlighting the themes of which he was most fond, from the Knights to the Pomona, from the Miracles to the Jugglers, to the Dancers and naturally to the portraits. In addition to the permanent collection of the 183 works of the artist Marino Marini – among sculptures, paintings, drawings and engravings – there are the exhibitions dedicated to artists and themes from the 20th century to modern times. The museum path also includes the Cappella Rucellai (Rucellai Chapel), hosting the sacellum of the Holy Sepulchre of Leon Battista Alberti, one of the "wonders" of Florentine Renaissance.
Museum timetables
Access notes
Direct access from the ticket office and entry into the first available visit slot.  
Last admission half hour before closing.
Access to the Cappella Rucellai: maximum 8 people every 30 minutes.