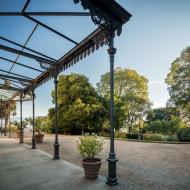 Without reservation required
Overlooking the city of Florence with an amazing view, thanks to its high position on Oltrarno hill, Villa Bardini houses temporary exhibitions and also cultural events among music and literature, and also houses the Pietro Annigoni Museum: a selection of works from various periods and of different techniques and subjects that belonged to the artist's collection testimony his extensive and successful career and the importance of the artist, certainly one of the most peculiar of the last century. The Villa dates back to the 17th century, it was built by Francesco Monadori according to Gherardo Silvani's design; however, the most interesting historic period of the complex dates back to Stefano Bardini, who purchased it with the Garden in 1913. The beauty of its Garden, among woods, vegetable yard and orchard located near the Medieval walls of the City, render this garden a place of nature, culture, art and history. On the exterior, the Giardino Bardini features three different gardens in terms of age and style: - the Italian garden with Baroque stairway; - the English garden with exotic plants, representing a rare example of Anglo-Chinese garden; - the agricultural park, with the orchard and marvellous wisteria pergola.

Costa San Giorgio, 2 (e via dei Bardi 1/r)
Firenze
,
FI
Information
Villa: from May 3 to October 8, 2023, from Tuesday to Sunday from 10:00am to 09:00pm. Closed every Monday and June 16th. On 5 July reduced hours 10:00am-03:00pm.
Garden: from June 1 to  August 31 every day 10:00am-09:00pm. Closed first and last Monday of the month; 25th December; June 12th and 26th; July 3th . On June 28 early closing at 05:00pm. On July 5 early closing at 03:00 pm. On June 20, 21, 29 and 30 early closure at 07:00pm.  Special opening July 31, 7 and 28 August, 4 September opening time 10:00 am- 08:00 pm
Museum timetables
Access notes
Direct access from the ticket office and entry into the first available visit slot.
Last admission one hour before closing. 
Villa: from 7 November 2023 to 11 February 2024 from Tuesday to Sunday from 10:00 to 19:30. Closed every Monday; 25th December.
Garden: open every day 10am-4pm. Closed first and last Monday of the month; 25th December.