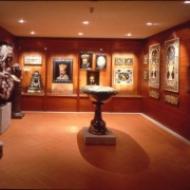 Museo dell'Opificio delle Pietre Dure
The Museo dell'Opificio, opened in 1882, is a branch of the art workshop that works hard semi-precious stones, founded in 1588 by Grand Duke Ferdinand I of the Medici. Its collections include works of great suggestion and refinement that cover the entire manufacturing activity that lasted three centuries. The current layout of the Museum, dating back to 1995, was conceived by architect Adolfo Natalini. The exhibitive path, which tells the origins of the workshop, begins with some of the first Florentine examples of the mosaic stone work technique. The works related to the monumental altar in semi-precious stones are of remarkable interest, which was never completed, conceived for the Cappella dei Principi in the Basilica of St. Lawrence, magnificent structure commissioned by Ferdinand I to preserve the remains of the Medici dynasty. Among the creations of the Lorenese period, there are mosaic paintings executed upon the models of the Florentine painter Giuseppe Zocchi, who collaborated with the workshop from 1750 to 1767. The following 19th century halls document the vitality of the Opicifio during the post-unification period, when complex works were executed using a vast range of materials. During the visit, it is possible to view the entire process, from creation to the finished work, and discover the most intrinsic mechanisms of a charming episode of Florentine art history.

Museum timetables
Access notes
Direct access from the ticket office and entry into the first available visit slot.
Mandatory face masks.
Temperature check.
The last admission is half hour before closing.