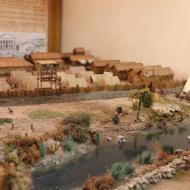 Museo del Figurino Storico
Without reservation required
The Museo del Figurino Storico in Calenzano, is a small museum located on the hills, near the city of Florence. The peculiarity of the museum is to explain and describe history through model building: hence, during the visit, you will come across an Etruscan tomb, a Roman emperor on the quadriga, the reproduction of Matilde di Canossa and the army of the City of Florence, in addition to the Santa Maria with which Columbus reached Americas and Napoleon, up to models of planes used during the Second World War. Moreover, the museum features a small historic itinerary on model building, which reconstructs the history of the soldier and shows the various types from the origins until its current conformation. The philosophy of the museum is to learn having fun and for this reason, didactics and laboratories are given lots of importance, with guides and historians expert in the pedagogic and didactic field.
Museum timetables
Access notes
Direct access from the ticket office and entry into the first available visit slot. 
For information and booking of visits at different times, contact the Calenzano Tourist Association by calling +39 055 0502161 (Mon-Fri, 09:00am-01:00pm).
For Firenzecard holders, free guided tour of the museum collection by museum operators.