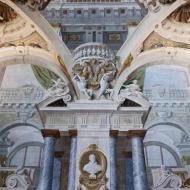 Palazzo Pitti-Tesoro dei Granduchi
Without reservation required
The Tesoro dei Granduchi, known as "Museum of the Argenti" (Museum of silverware), is located on the ground and mezzanine floor of the Pitti Palace, and occupies the premises that were once the summer Apartment of the Medici family, decorated in 1635 by Grand Duke Ferdinando II in view of his wedding with Vittoria della Rovere. The Museum houses the treasure of the Medici: the vases in semi-precious stone of Lorenzo the Magnificent, the cameos and carvings of Cosimo I; the quartz crystals of Francis I, the ambers of Mary Magdalene of Austria, the ivory vases of Mattias de' Medici, the famous collection of jewels belonging to Anna Maria Luisa. The silverware comes from the so-called "Treasure of Salzburg" that is from the collections of the bishops of Salzburg, brought to Florence by Ferdinand III of Lorena in 1815. The Museum also hosts an important collection of jewels realised between the 17th and the 20th century and an important section dedicated to contemporary jewellery.
Information
To access all the museums of Palazzo Pitti, Firenzecard holders must first go to the ticket office in Piazza Pitti 1.
Museum timetables
Access notes
The last admission is one hour before closing.
Free admission every 1st Sunday of the month; priority access suspended.
Direct access from the ticket office and entry into the first available visit slot.