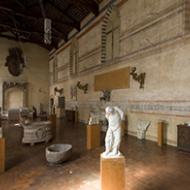 Fondazione Salvatore Romano
Booking obligatory
The museum is located in the ancient Refectory of the convent, erected beside the church of Santo Spirito by the Order of Hermits of St. Augustine. Built in Gothic style in the 14th century, it is the only part of the magnificent monumental complex of Santo Spirito which still preserves its original structure. Its ancient function is remembered by the imposing 14th century fresco by Andrea Orcagna and his staff, which decorates the entire eastern wall, at the bottom showing the fragments of the Last Supper and at the top, a superb Crucifixion. The fresco is not only one of the best works of Orcagna, but also one of the largest wall paintings of the 14th century, still conserved today. The museum displays the works donated to the City of Florence in 1946 by collector and antiquarian from Campania, Salvatore Romano, a prestigious collection of sculptures, fragments of architectural decorations, detached frescoes and furniture of various origin and age, between ancient Roman age and the 17th century. As foreseen by the deed of donation, the collection still preserves the suggestive layout of ornamental and evocative character, created under the lead of Salvatore Romano.
Museum timetables
Access notes
The museum can only be visited with a combined ticket Brancacci Chapel.
Last admission forty-five minutes before closing.