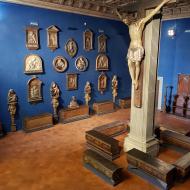 Without reservation required
The Museum takes the name after its founder Stefano Bardini (1836-1922), the most renowned Italian antiquarian who, after years of intense business activity, decided to transform his collection in museum and donate it to the City of Florence. The palace, seat of the museum, was purchased and restructured by the same Bardini in 1881 to perform his antiquarian activity. In 1922, the Municipality of Florence entered in possession of a considerable heritage, of which he recognised the importance and high historic value, without anyhow agreeing on the layout attributed by the antiquarian to the works. In 1925, Museo Bardini became civic Museum and pieces coming from municipal collections were added to the works acquired by Bardini. Among the most significant works, the Carità by Tino di Camaino, the Madonna col Bambino and San Giovannino by Benedetto da Maiano, San Michele Arcangelo by Antonio del Pollaiolo, the Madonna dei Cordai by Donatello, L'Atlante by Guercino in addition to ceramics, medals, bronzes, Middle eastern rugs, music instruments, rare 15th century chests, a small but very important series of armoury articles.
Museum timetables
Access notes
Direct access from the ticket office and entry into the first available visit slot. 
Last admission forty-five minutes before closing.
Access for disabled
Accessible (except Sala d'Arme)