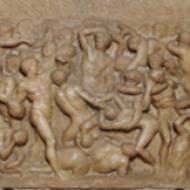 Without reservation required
Michelangelo Buonarroti the Young, great grandson of Michelangelo conferred the aspect of building to Casa Buonarroti, that still preserves nowadays, during the first half of the 17th century. He commissioned the decoration of four halls celebrating the glories of the great ancestor and of the family, which are still part of the museum itinerary, to the most famous painters who were working back then in Florence (such as Pietro da Cortona, Artemisia Gentileschi, Jacopo Vignali, Cecco Bravo, Cristofano Allori, Passignano, just to mention a few). Casa Buonarroti, which was left to the city by the last direct descendant, was opened to the public in 1859. The precious Archive and Library can be consulted by scholars. The Museum exhibits the two master pieces that Michelangelo painted when young - the Madonna of the Stairs and Battle of the Centaurs -, the collection of drafts, the model for the facade of St. Lawrence and, displayed in rotation in a suitable equipped hall, small sections of the richest collection of Michelangelo's original drawings in the world, property of Casa Buonarroti. The visit of the Museum also includes the art collections of the family, that range from important Roman and Etruscan archaeological findings, to important examples of the Renaissance, to works of the Baroque period up to testimonies of the Florentine sculpture of the mid-19th century.
Museum timetables
Access notes
Direct access to the ticket office without booking.
Last admission half hour before closing.