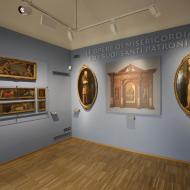 Museo della Misericordia di Firenze
Without reservation required
The Museum of Mercy of Florence offers to the visitor the possibility to know the charity history of Florence from 1244 to today. From the assistance to prisoners to the transport of ill and wounded people in city hospitals, from the management of lazarets to the attribution of dowries to poor young girls to get married or enter the convent. The museum path, which covers about 600 square metres, displays testimonies of almost eight centuries of activity, commissioned art works, legacies and donations, tangible sign of the gratitude of the Florentine people towards the Institution. It is possible to admire prestigious works by important authors like Santi di Tito, Benedetto da Maiano, Sano di Pietro, Francesco Ubertini called Bacchiacca, Giovanni Antonio Sogliani, G. Battista Naldini, Giovanmaria Butteri, Dono Doni, Domenico Puligo, Carlo Dolci, and also paintings dating back to the Caravaggio period - like "Christ among the Elders" by Dirck Van Baburen and the "Return of the prodigal Son" by Valentin De Boulogne – and the contemporary age with Piero Annigoni and Elisabeth Chaplin. All works that the museum has conserved with care and love, bearing witness to the respect for the memory of benefactors.
Museum timetables
Access notes
Direct access to the ticket office without reservation.
Last admission 30 minutes before closing time.