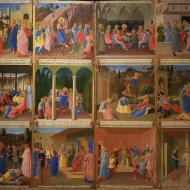 Without reservation required
The museum occupies the monumental part of the Dominican convent of San Marco, an architectural masterpiece by Michelozzo commissioned by Cosimo dei Medici from 1437. It houses the largest collection in the world of works by Fra Angelico, one of the greatest painters of the early Renaissance, who worked in the convent between 1438 and 1445. It was the residence of Fra Girolamo Savonarola, who lived there from 1489 and became its prior in 1491. Declared a monument of national importance in 1869, the convent became a museum and today coexists with the nearby church of San Marco and the parts adjacent to the cloister of San Domenico still reserved for convent life.
The museum also houses works by Ghirlandaio, Fra Bartolomeo, Paolo Uccello, Giovanni Antonio Sogliani and the Della Robbia family, as well as an exhibition of architectural remains from the centre of Florence and the Michelozzo Library.

Museum timetables
Access notes
Direct access from the ticket office and entry into the first available visit slot.
Last admission is half hour before closing.
Free admission every 1st Sunday of the month; priority access suspended.