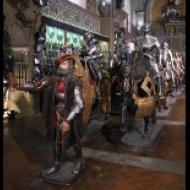 Without reservation required
Stibbert Museum is one of the most charming and unusual places of Florence. The home-museum realised by its founder, Frederick Stibbert (1838-1906, born in Florence of English origin), houses and displays according to an exciting and scenic layout, the exceptional collection that he left to the city at his death: in particular, the famous arms collection, and also art and daily life objects of the European, Islamic, Far Eastern civilization, in particular Japan. The villa located at the slopes of the Florentine hills was transformed by the artist in neo-Gothic castle with rooms destined to scenographic collections: European, Islamic, Japanese armoury objects present groups of fully armed warriors. The painting collection proposes paintings with armed scenes and scenes in customs, and also great works of Botticelli, Crivelli, Bronzino, Suttermans, Allori and others. The other side of the building features the fancy private flats, furnished and decorated according to 19th century criteria, assigning the re-evocation of a style to each room; neo-Renaissance for the dance hall, rococo for the small halls, Empire for the bedrooms. The same eclectic taste, the same curiosity for the past and exotic style characterise the park, decorated by woods, pavilions, statues, false ruins and a small Egyptian temple.
Museum timetables
Access notes
Direct access from the ticket office and entry into the first available visit slot. 
The last entry is 45 minutes before closing.