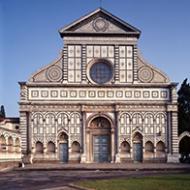 Without reservation required
The museum complex of Santa Maria Novella includes the Dominican Basilica and adjacent monumental cloisters. It is possible to access the church from a magnificent façade characterised by white and green marbles, which upper section was completed in 1470 upon design of Leon Battista Alberti. The basilica still preserves some of its most ancient decorations and houses countless works like the big Cross painted by Giotto, the Trinità by Masaccio, the paintings of the Strozzi di Mantova Chapel by Nardo and Andrea di Cione named Orcagna, the Natività by Sandro Botticelli, Tornabuoni Chapel frescoed by Domenico Ghirlandaio and his shop, Strozzi Chapel by Filippino Lippi and the cycle of 16th century paintings that decorate the altars. The museum includes instead the first two cloisters of the ancient convent. The most famous is Chiostro Verde, decorated by the Stories of the Genesis by Paolo Uccello and other artists, from which it is possible to access the Cappellone degli Spagnoli frescoed by Andrea di Bonaiuto. The Cappella degli Ubriachi and the ancient Refectory house a permanent exhibition of gold objects, sacred furniture and liturgical vestments, part of the ancient Treasury of the Church, and a series of paintings.
piazza Stazione 4 / piazza Santa Maria Novella 18
50123
Firenze
,
FI
Museum timetables
Access notes
Direct access from the ticket office and entry into the first available visit slot. 
Last admission one hour before closing.
On tuesday 21 November the Basilica will open at 12.00am for liturgical celebration.